Fri, 25 November 2011
David Molk has not only established himself as one the most intense players on the field for Michigan, but also as the undisputed leader of the offensive line. A finalist for the 2010 Rimington Trophy, Molk and the Wolverines rose to the occasion this season, ranking 12th in the nation and only second in the Big Ten in rushing offense - behind Wisconsin. Michigan closes out the regular season this weekend against its longtime rival Ohio State.
Category:
general
-- posted at: 8:59 PM
---
Fri, 25 November 2011
BY MICHELLE PELINI
The 2011 season has seen many ups and downs in collegiate football. But, with the end of the season and the holiday approaching, it is important to revisit what we all love about college football – historic rivalries and memorable players.

This Friday, the day after Thanksgiving, the University of Iowa met the University of Nebraska for a sell-out game at Memorial Stadium for the first ever Heroes Game, a tradition projected to last through the years. For the first time ever, these historically prominent teams faced off as conference rivals instead of regional rivals as they were in the year 2000.

Rimington Trophy Watch Listers, James Ferentz (Iowa) and Mike Caputo (Nebraska), went head-to-head in this historic, first ever conference match-up. While the Cornhuskers came out on top 20-7, both players and their teams showed their confidence and pride, remaining committed to improve fundamentally as individuals and as a team.

The Heroes Game was anticipated by eager fans all season and could not have come at a better time of the year. Thanksgiving is a time when families come together, and this game reflects the season by bringing together two dominant Big 10 teams and creating an exciting, annual rivalry.
Category:
general
-- posted at: 8:32 PM
---
Wed, 23 November 2011
A few watch-listers took a minute to reflect on what they're thankful for this year.
Happy Thanksgiving!
Category:
general
-- posted at: 6:14 PM
---
Wed, 23 November 2011
Blake McJunkin hit the ground running upon his arrival at Southern Methodist University. As a fresman, McJunkin started the final 10 games of the season for the Mustangs and hasn't looked back since. While he's had to battle through an ankle injury this season, McJunkin has undoubtedly become the key man in the middle for SMU's offensive line. Lauded for his work ethic, McJunkin also received heaps of praise for a selfless act he did during Week 1's game against Texas A&M. While tackling Aggies DB Trent Richardson during an interception return, Richardson lost his helmet and McJunkin instinctively shielded Richardson from harm. You can see the video of the play here: http://www.youtube.com/watch?v=79fuNjX329c
Category:
general
-- posted at: 6:07 PM
---
Fri, 11 November 2011
Houston's Chris Thompson became the second person this week to be added to the Rimington Trophy Watch List. His offensive line is a major reason why the Cougars are one of five teams left unbeaten. Thompson gave a few minutes to our own Michelle Pelini and talked about what it feels like to join the Watch List and one surprising career path he'd like to pursue after his playing days are done.

This week at Tulane, you will be trying for your 10th consecutive win of the season – do you or your teammates allow that to impact the way you prepare for the game?
Not really. Coach Sumlin and Coach (B.J.) Anderson do a great job of keeping us focused on our next opponent. We are just trying to go 1-0 this week. Sure we know what is out there for us and that's a good thing, but we have been here before and we have a veteran group that can help our young guys stay focused.

Your team is currently ranked 11th – the highest ranking for a Houston football team in history – what do you think this 2011 squad has done differently than past teams?
We have a consistent program. Coach Sumlin approaches every year the same and that trickles down to us. There hasn't been anything different. We are just a more mature group that has played a lot of football together.

You are the center for the top offense in the nation, an offense that averaged 1 point per play for the past three weeks. How does it feel to be one of the leaders for that O-line?
It feels great. To be honest, we are a tight group that shares the success and shares the blame. For us, we don't want to be talked about. We want to be that foundation that helps us be successful and as an offensive line, this group will just keep getting better and better. You will have some guys from Houston on this list next year!

Was your transition to the Center position this season challenging, or do you feel that you were prepared for the switch?
Snapping the ball is different. Before you get up to the line, make your reads and go. Now I am snapping the ball back to Case (Keenum) and then going, so it was an adjustment. But I have great players around me, guys I trust. You can ask any center in America, you have to trust the guys around you if you are going to play this position.

What kind of leadership changes did you have to make when you moved to Center?
I get that question a lot and sure, there are calls you need to make, but you can't fake leadership. You have to be a guy people rely on from the first day you step on campus. It doesn't matter if you are first on the depth chart or working hard and on the scout squad, you can't fake leadership. Everyone around you will know it.

What was your reaction to the news of being named to the Rimington Trophy watch list mid-season? Your family's reaction?
It feels great. I had a lot of great coaching and people mentoring me along the way and I have a great offensive line around me, and a quarterback that isn't too shabby, so it felt really good. I hope it feels good for our entire line, because offensive linemen with weak links beside them aren't getting on this list. So this is a collective honor. As for my family, they are proud. They really helped to shape me as a person and helped me get to this point, so they are a big part of this too.

Rumor has it that you are quite the practical joker on the team – care to share some of your best jokes?
I love to joke around with our guys. I can't really think of a great practical joke off the top of my head, but I like to clown around with my teammates and have fun.
(One of Chris's "trademark" moves is to run down the field after a touchdown and pick up the scoring player. During the UTEP game, one of his teammates scored and then fell on the ground – at which point Chris decided to fall on top of him in celebration. After Chris's fumble recovery and score against UCLA, Chris's roommate – David Hunter - turned the tables on him and decided to pick him up in the air.)

What is something we would all be surprised to learn about you?
I want to act. I am a people person. I love talking with folks and meeting new people, and I was blessed with an ability to communicate and make people feel comfortable. When my playing days are done, I want to make a run at acting.
Category:
general
-- posted at: 3:54 PM
---
Fri, 11 November 2011
This week, Khaled Holmes became the newest member of the Rimington Trophy Watch List. The junior from Santa Ana, Calif. spent a few minutes with our own Michelle Pelini and talked about joining the Watch List and his team's upcoming game against Washington this weekend.

One of your team's preseason goals was to raise the offensive output from last year. Do you feel your teammates and yourself have made strides to accomplish this goal?
As an offense, we have made tremendous strides in production and, more importantly, the ability to finish and close out games.

This week, Homecoming Week, you play Washington, a team with the same Pac-12 record as USC, does this impact the way you prepare for the game?
Honestly, we prepare for every opponent the same - regardless of rank, record or the situation.

In your past two meetings with Washington, the games were decided, in Washington's favor, by last second field goals. What changes do you think need to be made this year for USC to prevail?
Our team has come together this year and learned how to close out games - both on offense and defense. It was a major point of emphasis for us this offseason.

This game brings a relatively unique coaching situation, as several of Washington's current coaches are former USC coaches. Do you think this makes this particular game a little more special, or even more competitive?
In the public's eye, I am sure this adds an extra sense of competition, but we approach this game the same we would any other.

How did it feel when you got the phone call that you were a late-season addition to the Rimington Trophy watch list? How did your family react?
I was honored and my mom loved it.

Has your brother, Alex, who played with the Miami Dolphins, and your brother-in-law, Troy Polamalu, a Pittsburgh Steeler, had a major impact on your football career?
Very much so - they are always there when I need advice regarding football or really anything else.

As a collegiate student-athlete, how do you handle your Twitter account? Do you feel any added pressure to tweet "responsibly?"
Collegiate student-athletes have added pressure to act responsibly in every arena. Every comment and action in today's age is viewed under a microscope. Twitter is no different.



Category:
general
-- posted at: 3:39 PM
---
Thu, 10 November 2011
This week, two players were added to the 2011 Rimington Trophy Watch List: Khaled Holmes (USC) and Chris Thompson (Houston).
In his sophomore year, Thompson cemented his success with the Cougars when he was one of only 10 players to start all 14 games. After helping the offensive line lead the nation in both total offensive yards and passing yards, he was named to the 2009 All-Conference USA Team as an honorable mention. Prior to the 2011 season, Chris was named to the Rotary Lombardi Award Watch List, the Outland Trophy Watch List, Preseason First-Team All-Conference, Blue Ribbon Preseason First-Team All-Conference, and the Phil Steele Preseason First-Team All-Conference – all for offensive line honors. In his first game at center for the Cougars this season, Thompson recovered a fumble for a game-winning touchdown against UCLA .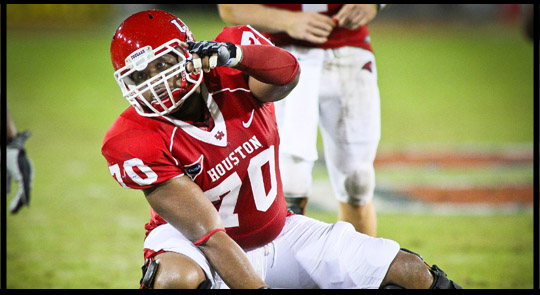 Khaled Holmes is a red-shirt junior and also only started playing the center position this season. Since taking over the spot, his Trojan offensive line is tied for fifth in the nation in sacks allowed, solidly protecting QB Matt Barkley. Holmes and Barkley actually attended the same high school - Mater Dei High in Santa Ana, Calif. As a sophomore, Holmes was named a 2010 All-Pac-10 honorable mention. This season, he's been turning heads and was recently named to Phil Steele's mid-season 2nd Team All-Pac-12.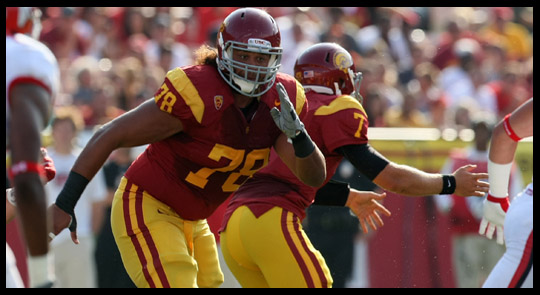 Congratulations to both Khaled and Chris!
Category:
general
-- posted at: 7:37 PM
---
Sat, 5 November 2011
Alabama's William Vlachos has his team primed for a run at the National Championship - and what a fitting way it would be for him to finish his career with the Crimson Tide. Vlachos became a starter as a sophomore in 2009 soon developed into one of the best centers in the Southeastern Conference. Heisman Trophy winner Mark Ingram was the beneficiary of Vlachos' leadership in the line. Today, Vlachos is regarded as one of the best centers in the country, and has Alabama atop the SEC in rushing yards and total offense.
Category:
general
-- posted at: 4:00 AM
---